BioRelease® Deslorelin
Controlled-release Deslorelin for induction of ovulation in mares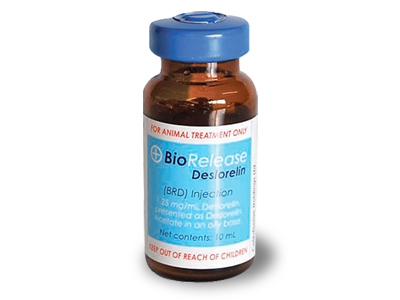 Active Ingredient
BioRelease® Deslorelin (BRD) injection is a suspension of the synthetic GnRH analogue Deslorelin in a non-aqueous base providing controlled-release of the active ingredient to induce ovulation in mares via intramuscular injection.
---
Actions
Natural GnRH is produced in the hypothalamus and has a short half-life of 5-10 minutes. Deslorelin induces ovulation by increasing the levels of endogenous luteinizing hormone. BioRelease® Deslorelin is a decapeptide and does not cause antibody formation so may be used repeatedly without a reduction in efficacy. No down-regulation has been demonstrated following BioRelease® Deslorelin use. Follicular suppression does not occur and inter-ovulatory interval is not extended. Abnormalities in neonatal viability and foal behaviour related to the use of Deslorelin have not been observed in foals born to treated mares.
---
Indications
BioRelease® Deslorelin is indicated for inducing ovulation within 48 hours in oestrus mares with an ovarian follicle greater than 30 mm in diameter. Follicular size should be determined by rectal palpation and/or ultrasonography prior to treatment.
---
Dosage and Administration
1.0 mL (1.25 mg Deslorelin) by intramuscular injection once an ovarian follicle greater than 30 mm diameter has been detected.
---
Pack
10 mL vial