F10™ SC
F10™ SC Veterinary Disinfectant is a total spectrum disinfectant and is available for use in the veterinary/animal, bird and reptile housing/ commercial farming markets.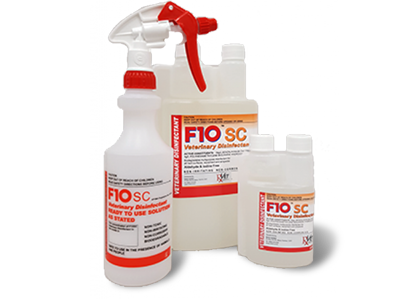 Description
With F10's unique combination of PHMB and Benzalkonium Chloride, there is minimal chance of microbial resistance and is unmatched in its safety in terms of not adversely effecting humans or animals.
Total spectrum of kill – bactericidal, virucidal, fungicidal, sporicidal, tuberculocidal
Rapid speed of kill – 30 secs Gram +ve bacteria and 60 secs Gram -ve bacteria at a 1:500 dilution
Unique chemical compound based on biguanide/quaternary ammonium actives combination
Less chance of resistance build up than with a single active ingredient
Kills Parvo in under 20 minutes
Non corrosive, non-toxic, non-tainting, not-irritation, safe to handle, biodegradable and ecologically friendly
Highly effective at low concentrations
No rinse off required after use, just apply and leave to dry
Stays active providing ongoing residual protection
Cost effective
Proven in a wide range of different veterinary situations, from clinics and hospitals to farming environments.
---
When to use
Disinfecting cages, kennels, stables, consult tables, water bowls, toys, floors, shelving, bedding
Disinfecting sensitive equipment
Room fogging/misting
Hand decontamination
Cold sterilisation of instruments, endoscopes, tracheal tubes etc.
---
Packs
Available In 4 pack sizes:
200ml, 1L, 5L, 25L bottles
F10SC™ Trigger Sprayer