Osphos®
An intramuscular Bisphosphonate Clodronic acid licensed for the alleviation of forelimb lameness associated with bone resorptive processes of the navicular bone in adult horses.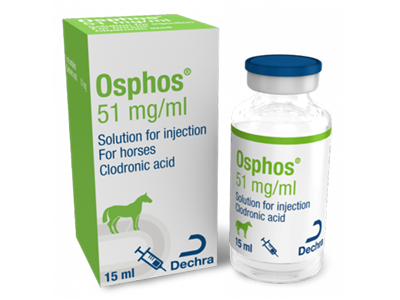 Description
Osphos
®
combats excessive bone resorption. The Bisphosphonate Clodronic acid helps to restore the balance between resorption and remodeling in diseased bone. It binds to hydroxyapatite crystals on the navicular bone which are taken in by the osteoclast during bone resorption. This inhibits osteoclast activity by preventing them from adhering to the bone surface and inducing osteoclast cell death and helps to reduce mineral loss.
Osphos
®
is administered once by simple intramuscular injection and should be evenly spread over 2 to 3 injection sites. Please Note: 1.6% of treatments resulted in clinical signs of colic.Use caution with concurrent administration of phenylbutazone and other NSAID's.
---
Features
Simple single administration.
A full dose can be administered in minutes.
Side effects are mild and transient.
Proven efficacy. Clinical improvement in lameness visible at 28 days after treatment.
---
How to use
Osphos
®
is presented in a 15 ml vial sufficient to treat one horse.
Recommended dosage:
3 ml per 100 kg of bodyweight.
Solution for injection:
Disodium Clodronate 60 mg/ml as Clodronic acid 51 mg/ml.
For more information please read the data sheet.
---
Pack
Available: 51 mg/ml 15 ml Vial
---
WATCH VIDEO: AN INTRODUCTION TO OSPHOS
---
WATCH VIDEO: HOW TO ADMINSTER
---
WATCH VIDEO: HOW OSPHOS WORKS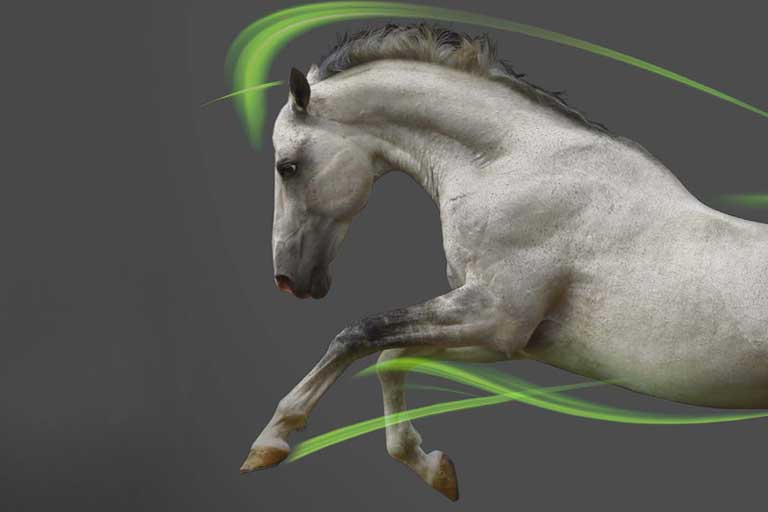 A stride forward in the treatment of navicular syndrome.

Treatment
Download Vet-only Material