PhenylBute
An anti-inflammatory, analgesic and antipyretic oral paste for the relief of painful conditions in horses; including acute laminitis, bone and joint inflammation, soft tissue inflammation, tendonitis, acute tenosynovitis, capsulitis, bursitis and musculoskeletal disorders.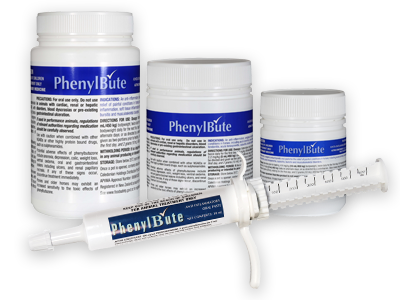 Active Ingredient
An oral paste containing 1 gram of Phenylbutazone in each 5ml (200mg/ml).
---
Actions
Phenylbutazone is a nonsteroidal anti-inflammatory drug (NSAID) with antipyretic and analgesic activity. It binds irreversibly to the enzyme cyclo-oxygenase, suppressing its activity in the biosynthesis of prostaglandins, which are the primary mediators of inflammatory responses.
---
Indications
For the relief of painful musculoskeletal conditions in horses.
---
Dosage & Administration
Administer prior to feeding.
Give:
4.4 mg/kg (10ml/450 kg) bodyweight, twice daily for the first day;
4.4 mg/kg (10ml/450 kg) bodyweight daily for the next four days;
2.2 mg/kg (5ml/450 kg) daily on alternate days; or as directed by a veterinarian.

---
Daily doses may be divided and given as two portions prior to feeding. Do not exceed 4 grams (20ml) /450 kg for the first day, and 2 grams (10ml) /450 kg for subsequent days of treatment.
---
Pack
Available in multi-dose 30ml syringes and 250ml, 500ml and 1 L containers.