PhenylBute
Anti-inflammatory, analgesic and antipyretic oral paste.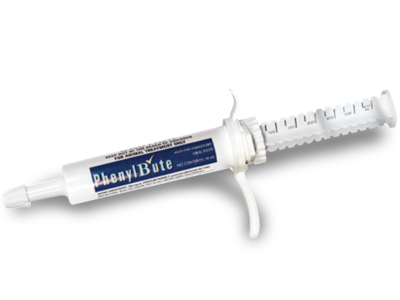 Active Ingredient
An oral paste containing 1 gram of Phenylbutazone in each 5 ml.
---
Actions
Phenylbutazone binds to the enzyme cyclooxygenase, inhibiting its activity in the biosynthesis of prostaglandins, thus reducing the inflammatory response.
---
Indications
For the relief of painful musculoskeletal conditions in horses.
---
Dosage and Administration
4.4 mg/kg body weight twice daily for the first day followed by 2.2 mg/kg thereafter, as directed by the veterinarian.
---
Pack
Available in multi-dose 30 mL syringes and 250 mL and 1 L containers.

Treatment
Download Vet-only Material