Dechra Academy
On-demand learning when you need it.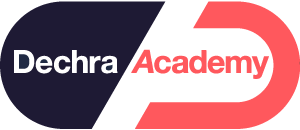 Free on-demand learning when you need it
Helping you as a veterinary professional to upskill and keep up-to-date with the latest thinking through completely free, modern learning experiences.
The world of veterinary medicine and care is constantly evolving and changing and we're here to help and support you. Dechra Academy has collaborated with a wide range of key opinion leaders to provide you with a diverse range of online courses designed to help give you the knowledge, expertise and skills you need to continually succeed in your career.
With Dechra Academy, you can be certain that you're getting access to the most cutting-edge information for veterinary professionals. We've got courses covering a variety of subject areas including disease diagnosis, treatment, monitoring, best practice and much, much more.
---
Key benefits of Dechra Academy
Packed full of courses, Dechra Academy is already preferred by thousands of veterinary professionals just like you. Why?
Modern, interactive and challenging learning experiences and educational content.
Accessible when and where you need it: our Academy is here to support you anytime, so we've kept it simple and made it available on any device.
Excellent user feedback: Veterinary professionals love the experience they're having with Dechra Academy, with 98% saying their knowledge increased and 99% certain they'll apply what's been learnt to their daily work*
With nearly ten years' experience educating veterinary professionals, we're passionate and proud to provide you with reputable, modern learning resources which help you continuously evolve your knowledge.
*Internal Courses Feedback Report 2019
---
To sign up and receive access to the Dechra Academy, you will first need to become a Dechra Member.
---
If you have forgotten your password, just go to the Members section on our website and click Forgot your Password? and you can reset a new password.