Apex Flusapex Drops
Apex Flusapex Drops is an aid in the treatment of oedema in dogs and cats. It has no adverse effects in pregnant animals.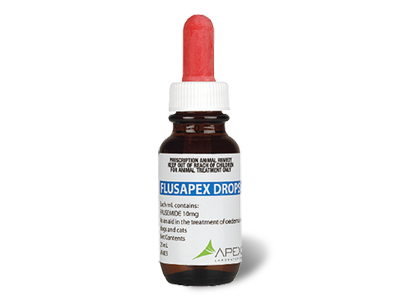 Active Ingredient
Frusemide. Each mL contains 10mg of Frusemide.
---
Actions
Frusemide is the most potent and commonly prescribed Loop of Henle diuretic, which causes excretion of sodium, potassium and water.
---
Contraindications
Use in patients with progressive renal disease if azotaemia increases or oliguria occurs during therapy. Use in patients with impaired hepatic function. Concurrent use with neomycin.
---
Caution
On prolonged medication monitor electrolyte balance and urea.
---
Adverse Effects
Metabolic alkalosis and dehydration.
---
Dosage & Administration
Give orally in divided doses
Cats:
0.1mL – 0.2mL/kg bodyweight daily
Dogs:
0.2mL – 0.4mL/kg bodyweight daily.
---
Pack
25ml bottle.