Apex Meloxicam Horse Paste
Anti-inflammatory and pain-relief
paste for horses.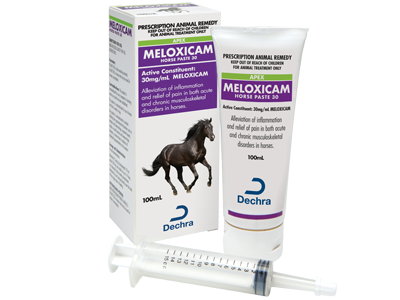 Active Ingredient
Meloxicam 30mg/ml
---
Actions
Meloxicam is a COX-1 sparing anti-inflammatory with reduced risk of NSAID side effects. It exerts anti-inflammatory, anti-exudative, analgesic and antipyretic effects. Oral absorption is nearly 100%, resulting in peak plasma concentration at around 7.5 hours.
---
Indications
For the alleviation of inflammation and relief of pain in both acute and chronic musculoskeletal conditions in horses.
---
Dosage & Administration
For oral administration.

---
Dose rate: Administer 0.6mg/kg bodyweight (10ml paste/500 kg) once daily for up to 14 days, or as directed by the treating veterinarian.

---
Administer by oral syringe directly over the back of the tongue prior to feeding. Apple-flavoured formulation to assist with administration.
---
Pack
Meloxicam 30mg/mL in 100mL plastic tube for connection to oral syringe.